Welcome to SIBLAC
Introduction
The absorption of Sikkim into the Indian Union was based on certain pre-conditions and solemn assurances given to the Sikkimese people, particularly the indigenous minority Sikkimese Bhutia Lepcha community which are reflected in May 8, 1973 Tripartite Agreement, Government of Sikkim Act, 1974 and Article 371 F of the Indian Constitution.
During the last few years since the Sikkim Bhutia Lepcha Apex Committee (SIBLAC) came into being, it has focused, to a fair extent, on the socio-politico-economic rights and interests of indigenous minority-Sikkimese Bhutia Lepcha people enshrined in Article 371 F of the Indian Constitution.
One of the main factors responsible for growing apprehension in the minds of minority Sikkimese Bhutia Lepcha is the consistent dilution of Article 371 F that has deprived them of their constitutional rights and the very basis of survival. Basically, the Sikkimese Bhutia Lepcha's struggle is a struggle for survival ... With growing awakening among the indigenous Bhutia Lepcha who have been reduced to minority in their own native land, if their precious rights and interests are not restored and safeguarded as provided in the Indian Constitution, the very concept of integration, assimilation or pride in being involved in nation-building will be render meaningless.
Our struggle for survival constitutes an appeal to those who are in power positions. We believe that drawing a nationwide attention, our problems promotes their solution - otherwise we are left complaining of abuse to the abusers. In this sense, we hope that this site will provide positive impulse for our struggle and will be understood as an urgent appeal to our fellow citizens to commit themselves to ensure our survival.
Till we wipe away the fears from the mind of our people,
Till we wipe away the tears of our natives,
Till we guarantee their secured political future,
Till we safeguard their identity in the land of their origin,
Our struggle for survival continues for generations to come!
Sikkim Bhutia Lepcha Apex Committee (SIBLAC)
Must Read! - Hydropower Scam in Sikkim
Report by Asif Syed and Soumik Dutta at CurrentNews, May 11, 2012
There is a dam in the upper reaches of Sikkim that holds back a murky reservoir of bribery, collusion and manipulation in allotting of power projects to private players, shell companies that are fronts for shadowy owners, seemingly reputable bureaucrats who have exchanged favours for post-retirement 'benefits', nationalised banks that have risked thousands of crores of public money in loans to inexperienced companies and 'consortiums of convenience' and the tragedy of a battered environment and lost lives. A crack in the face of the dam has already begun to leak secrets of lies, favours and bribes. It is called Teesta Urja Limited.
This is just the tip of the iceberg. The story of the scam and scandal behind the Teesta Stage III Hydro Electric Project and other such projects has just begun to unravel. There are many more details about the other projects, their actual owners and political backers that have yet to be revealed.
Soumik Dutta's Updates from the Frontline against Corruption:
By the way ...
... the objections raised by Soumik Dutta are not new. They came to table at the latest in 2009, when the Comptroller and Auditor General of India (CAG) published the latest Performance Review of the Energy and Power Department of Sikkim.
Despite the scathing findings of the CAG, nothing has changed, since. Most obviously, the SDF administration counts on their erstwhile voters to be deaf, blind or stupid enough - or all at once - to give the party another term anyway.
Contact Information
Address:
Tseten Tashi Bhutia (Ex-MLA), Convenor SIBLAC
Upper Syari, P. O. Deorali, Gangtok, Sikkim - 737102
Phone:
+919434144224 / +919734008199
E-Mail:
Facebook:
Sikkim Bhutia Lepcha Apex Committee
Supporter's page: SIBLAC Youths
Convenor's Statements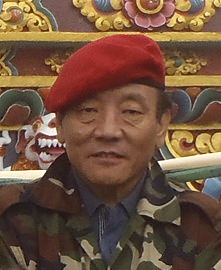 "We are becoming refugees in our own land, but we can't raise our voice. If we do, we are termed anti-national and communal. But we shall certainly overcome against all the odds."
Tseten T. Bhutia
Convenor, SIBLAC
"Marginalization of the indigenous Sikkimese Bhutia Lepcha due to the haphazard projects in the name of developement is a foregone conclusion and we are committed to rectify such errors."
Norden Lepcha
Former Convenor, SIBLAC
General Secretary's Statements
"Had your independence ensured mine, i surely would have greeted you on this moment every year ..."
August 15, 2015
Chewang Pintso
General Secretary, SIBLAC